Boots Principe di Bologna
FINAL SALE OFFER:
EXTRA 10% OFF WITH PROMOCODE EXTRA10
casual, vitello nappato, nero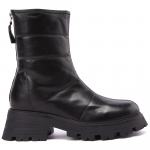 Shipping is not available for your location.
Handcrafted

for incomparable quality and timeless design
Albania (EUR €)

Andorra (EUR €)

Austria (EUR €)

Belgium (EUR €)

Bosnia Herzegovina (EUR €)

Bulgaria (EUR €)

Croatia (EUR €)

Cyprus (EUR €)

Czech Republic (EUR €)

Denmark (EUR €)

Estonia (EUR €)

Faroe Islands (EUR €)

Finland (EUR €)

France (EUR €)

Germany (EUR €)

Gibraltar (EUR €)

Greece (EUR €)

Greenland (EUR €)

Hungary (EUR €)

Iceland (EUR €)

Ireland (EUR €)

Italy (EUR €)

Latvia (EUR €)

Liechtenstein (EUR €)

Lithuania (EUR €)

Luxemburg (EUR €)

Macedonia (EUR €)

Malta (EUR €)

Montenegro (EUR €)

Netherland (EUR €)

Norway (EUR €)

Poland (EUR €)

Portugal (EUR €)

Monaco (EUR €)

Romania (EUR €)

Serbia (EUR €)

Slovakia (EUR €)

Slovenia (EUR €)

Spain (EUR €)

Sweden (EUR €)

Switherland (EUR €)

Ukraine (EUR €)

International (EUR €)
×
Sizes of women's shoes
To choose the correct size,
measure your foot length by standing up straight on a flat surface on a blank sheet of paper.
Оutline the foot and measure the distance between the most distant points.
To determine the correct size, correlate the measurements with the measurements in the table.
×
Inquire about arriving size
We will let you know if the size you need appears in stock, for this please leave your contacts.
You subscribed
Переход на